Dalarna and especially the area of Sifferbo (Gagnef) are excellent walking areas with varied landscapes.
In the surroundings of our park are very many possibilities for short or long walking tours and hiking.

The walking trails are going through a hilly area with forests, fields and natural landscapes, and the height differences are not so much. The trails are very good marked with red painted signs. Good walking shoes are necessary, because the terrain can be marshy and sometimes you have to walk through high grass and bushes.

Read more about nature and nature reserves at Nature experience >>.
OUR WALKING TOURS
We have developed for our guests several walking tours of various lengths and can give all kinds of suggestions.
The tours mostly starts and ends at our holiday park or on a short distance by car. We hand out a map of the tour. It is also possible to make these tours guided, with a companion.
Two examples of tours which starts and ends at our park:
Oxberget-Djurmo Klack
A beautiful walking tour of about 7 km with magnificent views from the Oxberget and Djurmo Klack. On the page 'Nature experience' you will find more information about this nature reserve.
Solsbodarna
A very nice walking tour of about 15 km. First the walk goes through the nature reserve Änjansdalen, than passes by the summer farm Solsbodarna and via the Oxberget-Djurmo Klack you will walk back to our holiday park.
WALKING TRAILS IN DALARNA
Walking trails in Gagnef
There are a total of 480 km of marked walking trails in the beautiful nature of Gagnef, which mostly go over very old trails and passing a large number of summer farms. You can enjoy the countryside and see the culture monuments and nature reserves. Some trails are passing by our holiday park.
You can also make your own walking tour on the basis of a map which can be purchased at our reception.
Some walking trails are following the

 

old summer farms trails. Along the way you will pass frequently a slogbod (shelter). Here you can also find a fire place and even the wood and the matches are present.


Walking in Falun
The Wilderness Trail outside Bjursås is a walking trail of 35 km through wild nature with beautiful views at some places. The trail goes round in a loop Dössberget - Fänriksberget - Dössberget.
From Faxberget you have a fantastic look on Lake Siljan.


Walking in Borlänge
Gyllbergen is Borlänge's largest nature reserve of 1020 hectares - a wilderness area with wonderful walking and hiking trails. In the area are 23 peaks over 400 meters. The Wilderness Trail of 30 km is passing by five little old summer farms. You can use them for resting or sheltering all year-round. You can also make daytrips, popular destinations are the summer farms Prästbodarna, Dragberget and Spånsans.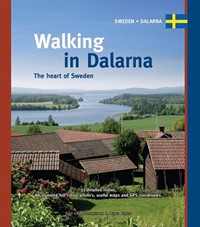 Since 2014 the walking guide "Walking in Dalarna" is published by One Day Walks B.V.
This guide consists of 21 beautiful walking tours through whole Dalarna, from approx. 5 until 19 km.
Our park is a perfect place to stay and make several of these walking tours. We also sell this walking guide.